---
Last Updated: 10/8/2008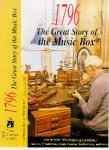 "1796, The Great Story of the Music Box" produced by Creavision, S.A., Ste-Croiz, Switzerland, released in 1996 by a consortium of Swiss Musical Box Museums, in NTSC Format. Running Time 63 Minutes.
Text from the jacket reads as follows:

"An original version, unique view, rare ancient documents... another way of seeing, understanding and hearing the wonderful world of mechanical music.

"1796, The Great Story of the music Box" is a 63 minute video film for general audience, presenting the history and development of mechanical music, with particular emphasis on the wonderful world of music boxes and automata.

Featuring:
The early days, the introduction of comb music, industrialization in Geneva and then Sainte-Croix, the development, the birth of a music box, the singing birds, the automata, industry today in this wonderful world, the visit of major museums."


e-mail me now to reserve this videocassette
Return to: Bill Wineburgh's Home Page