---
Last Updated: 10/7/2008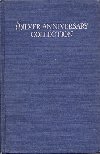 "Silver Anniversary Collection," Edited by William Edgerton. Published in 1974 by the Musical Box Society International, Summit, NJ. Hard cover with no dust jacket, 992 pages with numerous diagrams. The book measures 9-1/2 inches (24 cm) high by 6-1/4 inches (15.8 cm) wide and 2-1/4 (5.5 cm) thick!
Text from a book dealer's advertisement:

"This book of 992 pages is a compilation of the most significant articles that appeared in the scholarly bulletins of the first 25 years of the Musical Box Society International. This enormous book has 11 articles on history, 27 on Cylinder Musical Boxes, 20 on Disc Musical Boxes, 30 on Repairs, 12 on Coin Pianos, 5 on Violin Players, 7 on Small Organs, 26 on Large Organs and Orchestrions, 12 on Player Pianos, 5 on Phonographs, 5 on Automata, 4 on Musical Watches, Pictures and Singing Birds, and 24 on miscellaneous items. Hundreds of illustrations."
TABLE OF CONTENTS:
Preface
First Meeting Notice
History of the Musical Box Society International
Reminiscences
History
Cylinder Boxes
Disc Boxes
Repairs
Nickelodeons
Violin Players
Small Organs
Large Organs and Orchestrions
Pianos
Phonographs
Automata
Musical watches, Pictures, and Singing Birds
Collector Aids and Information
Miscellaneous
Index



e-mail me now to reserve this book



Return to: Bill Wineburgh's Home Page